Everyone deserves to have the Perfect Pamplona Trip™ – that's why we created this Running of the Bulls Tour Package comparison guide.
We deliver more, for less! Running of the Bulls, Inc. has hosted over 15,000 people at the Running of the Bulls in Pamplona… so our buying power and local relationships mean you get the very best, at a very competitive price.
Our
Packages
Our
Competitors
Bull Run View
Bull Run Balcony View
Level 3 – Estafeta location is a window, not a balcony
Bullfight Tickets
Premium shade seats, Lower Deck
Upper Deck seats, some in the sun among food fights
Opening Ceremonies
Watch actual event on Plaza Consistorial at a fully-catered balcony party
Watch the tailgate party on Plaza Castillo then have a snack somewhere else
Distance From Hotel
3 min. walk to Bull Run Route (City Center Hotel) 15 min. by shuttle (Golf Resort Hotel)
28 min. walk to Bull Run Route, no shuttle, and no taxis at peak times
Bull Run Route Tour
Hosted by Expert Runner Dennis Clancey
Hosted by a tour guide
Group Dinner
Gourmet Three-Course Dinner & Rooftop Fireworks Cocktail Party
Two-course dinner at a restaurant
Welcome Tapas
Private Cathedral Tour + Gourmet Tapas & Wine
Snacks in a burger joint
Transportation
Included
(Private car from Pamplona Airport or Train Station)
None
Smartphone App
Includes your custom itinerary and GPS directions to events
None
Support Staff On-Site
35 People
3 People
Verified 3rd-Party Reviews
Over 118 Reviews
None
Running of the Bulls Gear
Authentic 1591™ T-Shirt & Imported Bandana & Sash from Pamplona
T-Shirt,Bandana, and Sash
Book Pamplona City Center Package Book Pamplona Golf Resort Package
The daily bull run through the streets of Pamplona can only be seen from the safety of a balcony. Therefore, reserving a balcony spot early in the season is arguably the most important preparation for your trip. Balcony spots ca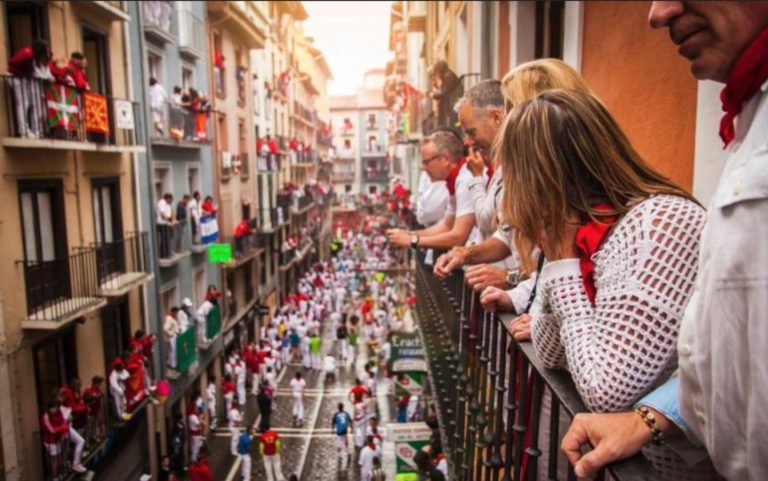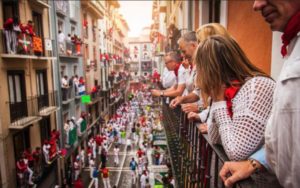 n be reserved along the entire bull run route and there are different advantages to each section (streets Santo Domingo, Mercaderes, Estafeta, respectively). Most visitors watch the run twice and choose balcony spots at different locations. Tips for reserving the best balcony spot:
Know which section you want to be on (Estafeta, Santo Domingo, Mercaderes)

Confirm that you are reserving a spot on a balcony and not a window

Confirm the level you are on. Generally, the closer to the ground, the more exciting
Pamplona bullfights are the only ones that are notorious for massive food fights by the local peñas (social clubs that are the life of the festival). They bring buckets of sangria, while bands play and then turn their backs on the spectacle, creating an enormous ruckus. This activity is not for everyone, especially if you actually want to watch the bullfight. Luckily, it is restricted to the seats in the sol side of the arena. (Literally, the "Sun" part).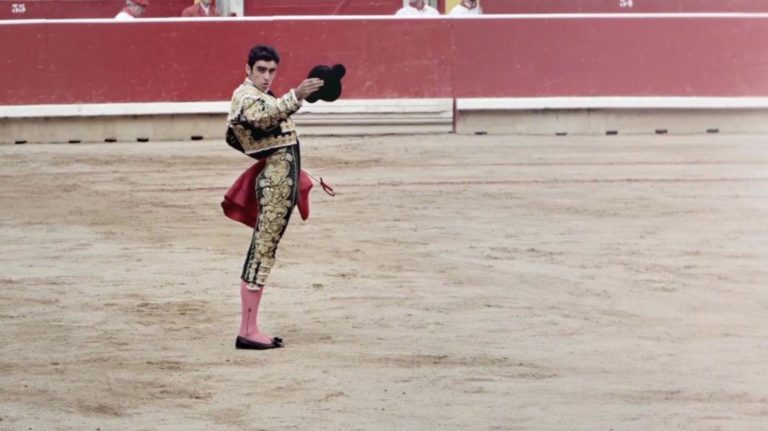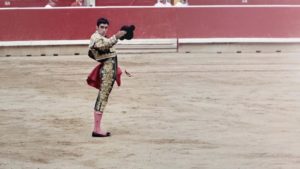 There are six different sections in the arena from the front row (Barrera) to Andanada (very top back). Respectable sellers of bullfight tickets will give you a choice of which section to be in and can even offer you seats in a private box with chairs that have backrests.
Tips for buying bullfight tickets:
Decide whether you want to party (sol) or watch the bullfights (shade)

Choose how close to the front you want to sit (Barrera, Contrabarrera, Tendido, Andanada)
Pamplona Opening Ceremonies (Txupinazo)
Watching 10,000 people all dressed in white, gather in the small townhall square Plaza Consistorial for a glass of champagne and sangria-fueled mosh pit party, is considered by some even more exciting than the bull run in Pamplona. Only the die-hard want to be in the middle of it all and so this is another Pamplona event where balcony spots are essential. As opposed to the bull run, there are very few balconies with a direct view of the town hall square and therefore, they are difficult to find and more expensive. The good ones are fully catered and include bottomless glasses of ice cold cava (Spanish sparkling wine), wine and sangria. When reserving a balcony for the opening ceremonies make absolutely sure that it is facing Plaza Consistorial and during the opening ceremonies. Some vendors offer balconies on the larger Plaza Castillo which shows the party on a big screen but you don't need a balcony to watch the screen. Besides, watching people watch people isn't as fun as actually being on the right square!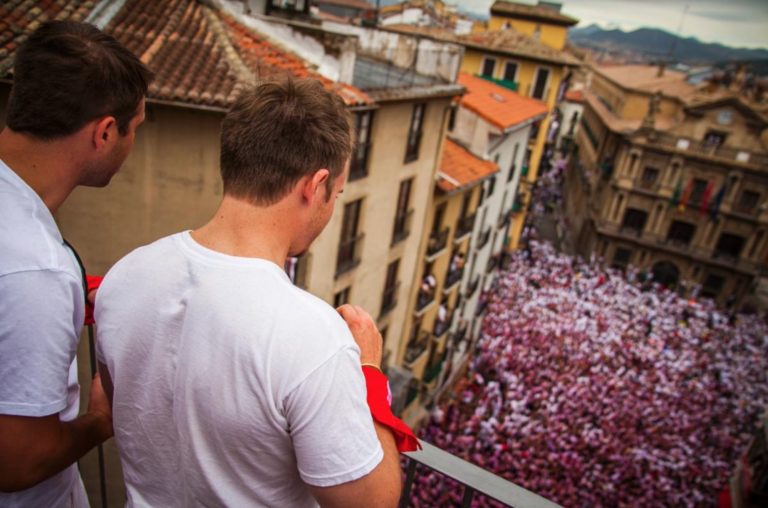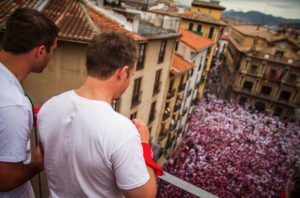 Tips for reserving the Opening Ceremonies balcony:
Make sure you are on a balcony during the Opening Ceremonies (approx. 10 a.m. to 1 p.m.)

Confirm that the balcony faces the townhall square Plaza Consistorial or else you won't see anything

Confirm that there is enough space for all guests on the balcony

Confirm that food and cava are included
Pamplona Hotels Walking Distance
The last thing you want after a long day in the city is to spend 45 minutes waiting for a taxi, only to give up and make a long walk home through a city you don't know. Worse even, is missing your chance to watch the bull run because you got lost while walking into town at 6 a.m., still half asleep/inebriated without a taxi in sight. Unfortunately, that's what happens when one million people descend on a city of 200,000 and public transport is overwhelmed. To avoid unnecessary stress either stay in a city center hotel or book with a company that offers private transportation to and from events. When booking a package always ask for the exact walking time from the hotel to your balcony and to be safe, plot the route on google maps.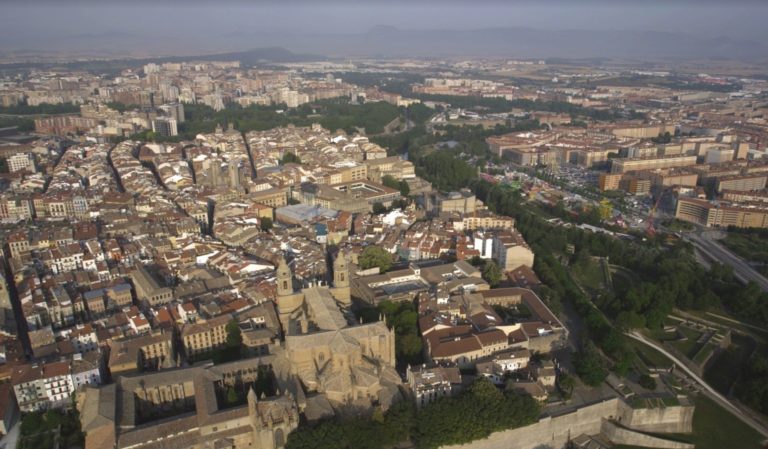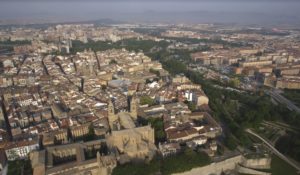 Tips for reserving a hotel:
Confirm whether your tour operator offers private transport between the hotel and events

Be aware of the walking distance from the hotel to your bull run balcony

If you don't want to walk and there is no private transport, choose a city center hotel
Most people are surprised at how quickly Pamplona's daily bull run ends (on average it takes 2 1/2 minutes) and they feel like they missed a lot of what just happened. You also always observe runners who are expelled from the run before it begins, realizing that the experience they dreamt of for years is being taken from them.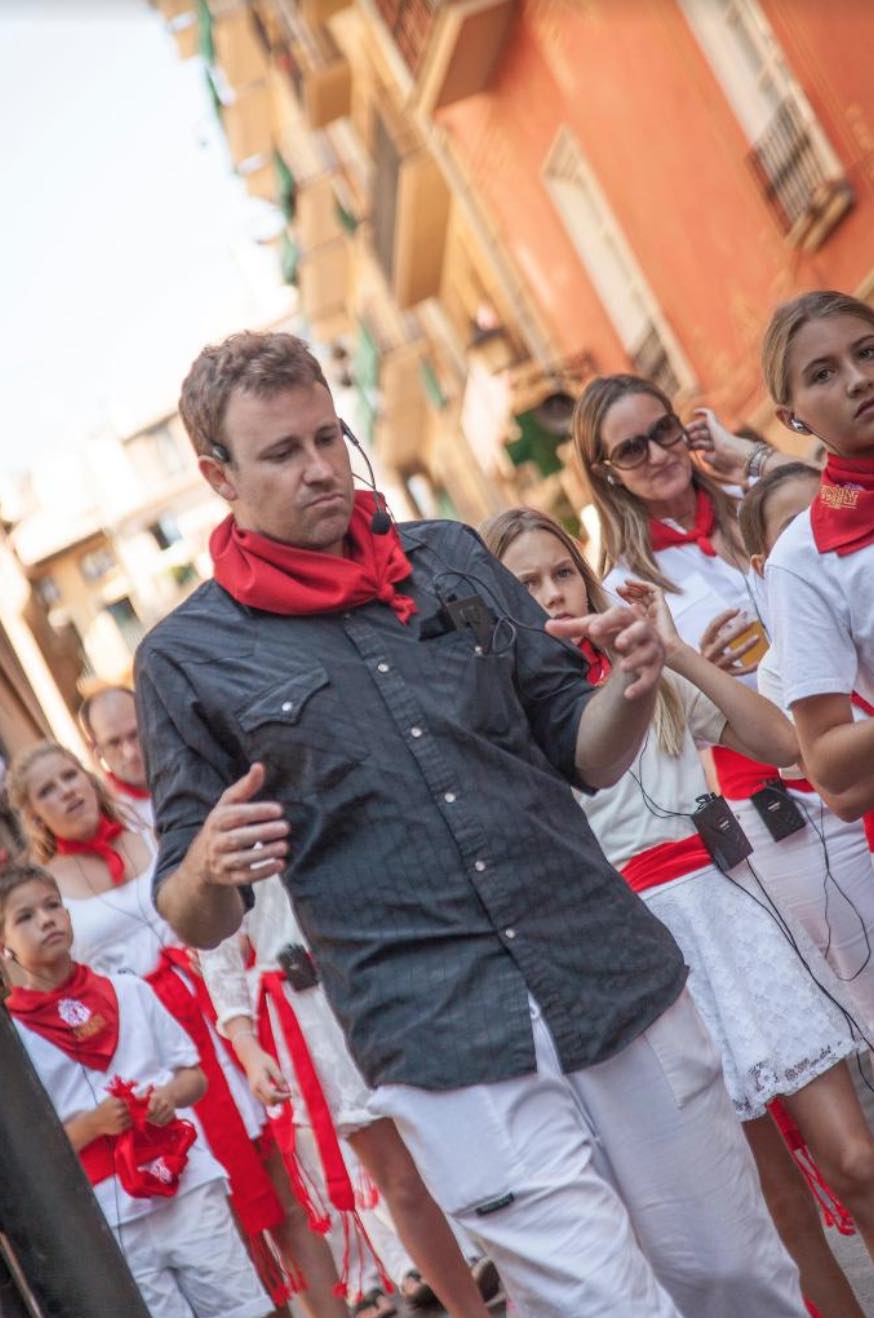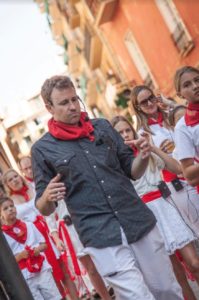 After you spend hundreds or thousands of dollars traveling to the Running of the Bulls, be sure you understand what is going on and how to participate. The best way to do this is by learning from the experts and walking the bull run route with one ahead of time. Even if you are just watching, the experience is infinitely richer after induction by an expert runner. Believe it or not, some people run every single day, every year. Most of them are Spanish but some are of North American origin and are willing to give guided tours.
Tips for choosing a tour:
Confirm the tour is given by an expert runner (someone who runs every year, every day)

Ensure that the tour operator provides headsets or else you cannot hear what is being said in the very noisy streets
Finding a decent meal during the fiesta of San Fermin can be a challenge for several reasons: Most restaurants reduce their menu options, many don't take reservations from foreigners but they are always full, the good restaurants are difficult to find. Group dinners hosted by tour operators offer the chance at a pleasant sit-down meal with other travelers who enjoy sharing stories. It's always a great atmosphere! The difference is the location and quality of the meal.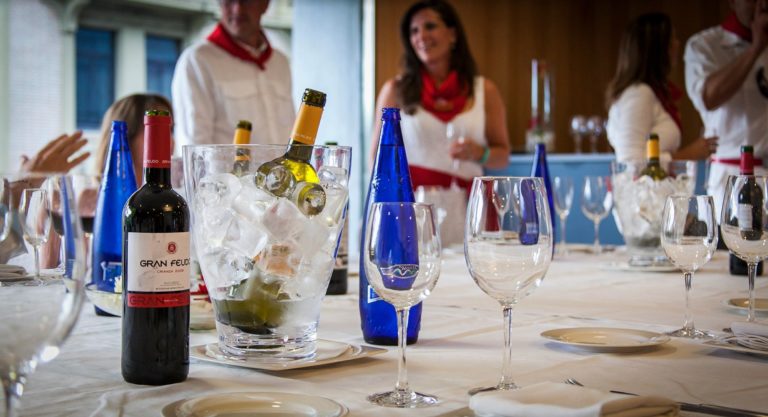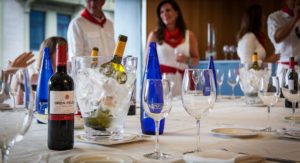 Runningofthebulls.travel hosts daily group dinners in a private dining room at the modern, performing arts center, followed by cocktails on the rooftop with a front row to the nightly firework competition. The meal is cooked by the former chef of gourmet restaurant La Nuez. It is difficult to find a more uniquely beautiful, authentically Pamplona location and meal.
Tips for choosing a group dinner:
Know what is special about the location (food hall or dining room with an atmosphere)

Know what quality meal you are being served
Welcome tapas are a wonderful way to begin your Pamplona experience; they set the tone for the days to come, allow you to meet other travelers and your hosts who usually are long-term aficionados and can provide many stories and advice for how to maximize your experience.
The location cho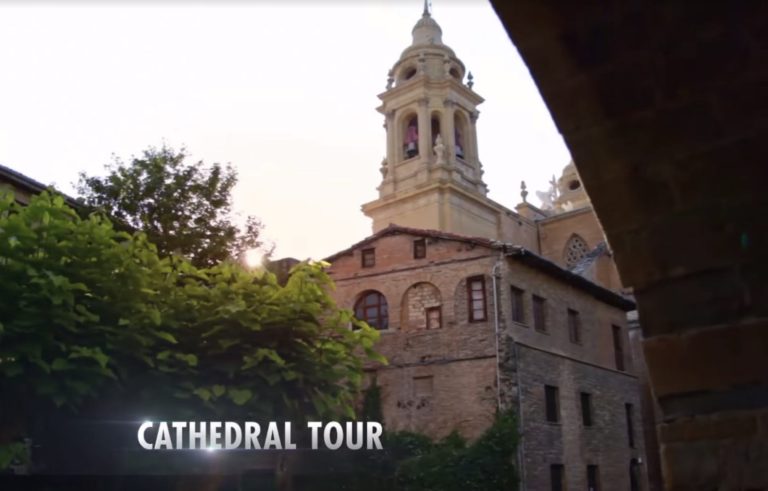 sen for the welcome tapas says a lot about your tour operator. Runningofthebulls.travel hosts the welcome tapas at Pamplona's Cathedral which houses the fiesta's namesake, the statue of San Fermin. You will have private access to the Cathedral and get a close look at the statue that the bull runners pray to every morning before the run. Other tour operators tend to meet at local food joints, surrounded by other revelers.
Want expert advice and a custom Pamplona trip plan?