Adrenaline-fueled bullfights are the cornerstone event during Pamplona's San Fermin Festival.  Bullfighting is one of Spain's longstanding cultural traditions – one that demands not only superior skill and physical grace, but a certain degree of professional artistry. Pamplona bullfights allow you to share in the spectacle of matador versus beast, while appreciating the strength and courage of the country's biggest and best bulls.
Bullfighting in Pamplona, Spain
Each morning during the 8-day festival, six massive bulls make the chaotic, kilometer-long sprint to the Plaza de Toros, where Spain's elite bullfighters await them for an early evening contest. Bullfighting aficionados recognize the intimacy and artistic combat of this centuries-old sport, while first-time visitors are often mesmerized by the red cape performance. If you're visiting Pamplona between July 6-14, this is a prime opportunity witness the grand – if not controversial — cultural tradition of bullfighting.
The practice of bullfighting was popular in ancient Rome and has even been depicted in Greek wall paintings dating back to 2000 BC. With its roots based in gladiator competitions, bullfighting has evolved into a sort of religion on the Iberian Peninsula and Pamplona shares a part of this deep cultural legacy. Pamplona's enormous Plaza de Toros (bullfighting stadium) was erected in 1922 to accommodate San Fermin Festival's growing crowds. Designed by Francisco Urcola, the arena could initially seat 13,000 people, but can now hold more than 19,720 spectators. Before the plaza's inauguration, Pamplona's bullfights were held in a makeshift arena at Plaza del Castillo. Next came another provisional bull ring situated close to what is now called Avenida Carlos III.  Seating just 900 people, this facility was expanded in 1852, just in time for the Running of the Bulls.
---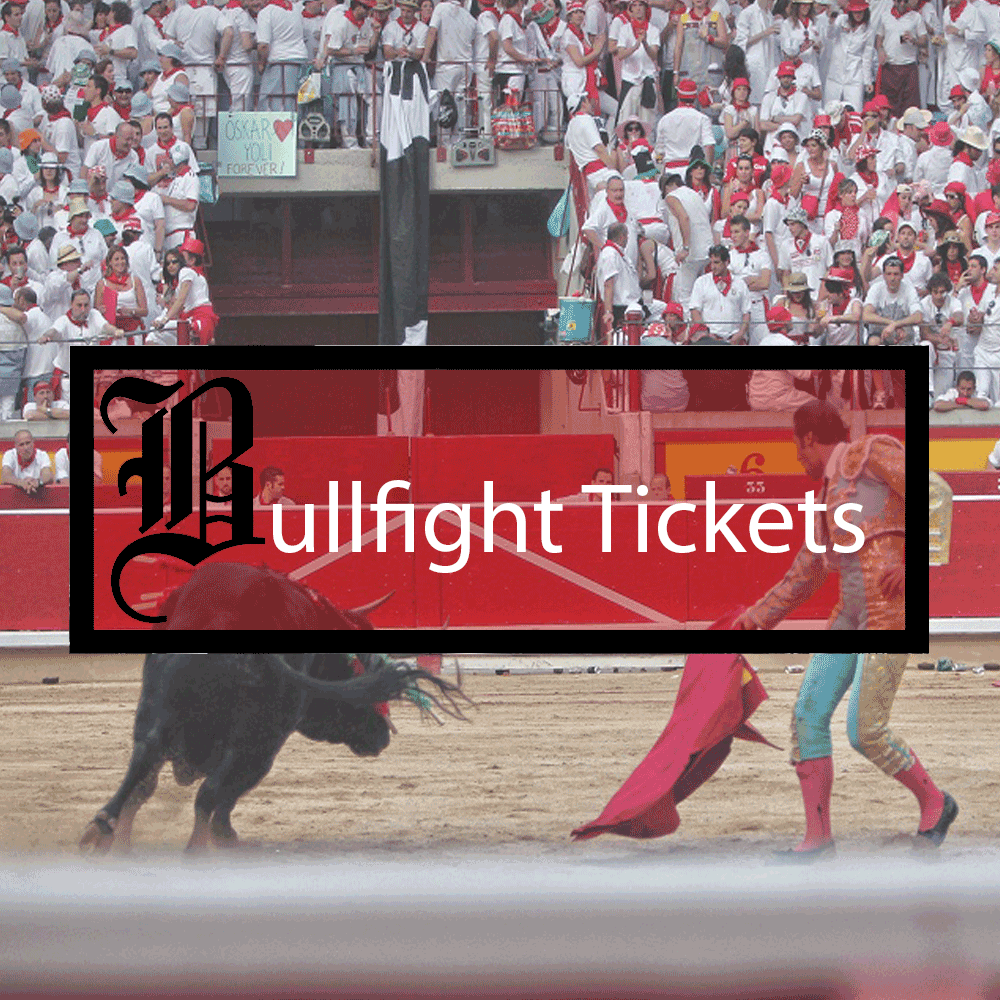 The Pamplona bullfights begin at 6:30 every evening of the San Fermin festival. While the Plaza de Toros is among the world's largest arenas, bullfight tickets are difficult to source. Season tickets are sold out well in advance and only available to local Pamplona residents. This leaves only 1,000 tickets per day, which are sold to the public. Counterfeit bullfighting tickets are a problem, so scalping has been banned in the city. Tickets are sold at a premium for either the Sol (sun) side or Sombra (shade) area of the stadium. Avoid hassle and stress by ordering your tickets in advance. We are the only secondary market that guarantees your tickets, and can help you find excellent seats at the Plaza de Toros.
Where to buy Pamplona Bullfight Tickets
It takes trustworthy contacts in Pamplona to get bullfight tickets during the San Fermin Fiesta. Since most visitors don't have personal relationships with local residents, your best bet for snagging a ticket is by working with us. Using our interactive guide, you can narrow down your ticket choices by day, section and quality of seat. Whether you want to be close to all the action amid die-hard fans, or comfortably perched in a luxe Box seat, we are your portal to this yearly extravaganza. Because ticket availability is extremely limited, expect to pay a premium.
---
Only people who live in Pamplona can get season tickets, and there are only 1,000 tickets a day sold to the general public. So almost all Pamplona Bullfight Tickets are sold on the secondary market, which is the only reliable way to ensure you have your ticket in advance. Scalping is not allowed in Pamplona, especially because of a large number of counterfeit tickets which are sold each year to unsuspecting visitors. Since genuine tickets are so scarce, expect to pay many multiples of the face value for a Pamplona bullfight ticket.
---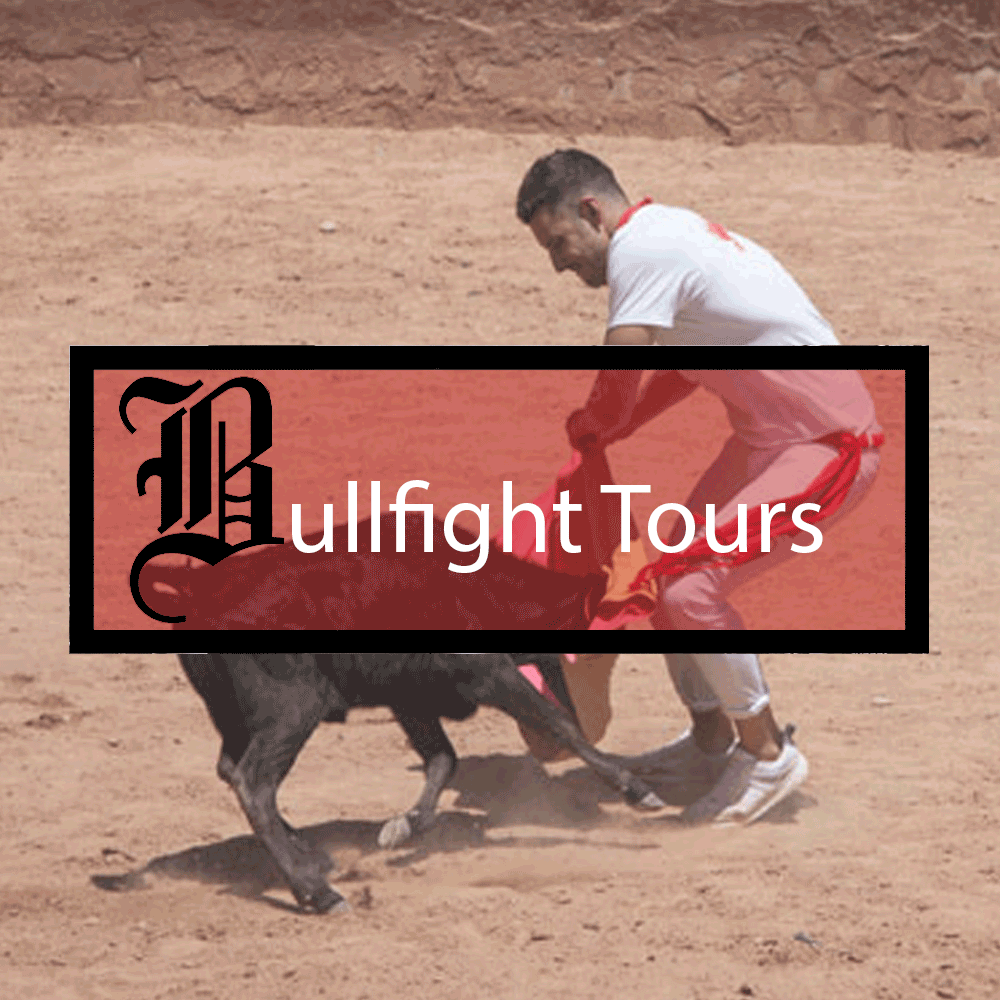 Pamplona Bullfighting Tours
Pamplona Bullfight Tours are a fun way to glean insight into the history and culture of the sport. Get first-hand experience on what it takes to be a matador, explore the inner-workings of a real bull ranch and more on these exciting excursions!
Guided Bullfight Viewing 
This exclusive opportunity is for anyone interested in a chance to see bullfighting through the eyes of an aficionado. To most novices bullfights are confusing and often upsetting, and it takes serious study to see beyond the chaos. However, most people don't have a respected authority on this topic at their side who can explain to them every detail of the event as it unfolds. Running of the Bulls is making exactly this possibly; Alexander Fiske-Harrison, British author, conservationist and former bull-fighter is offering to join small, private groups for an evening of bullfights in Pamplona. He will join your group in the Plaza de Toros of Pamplona for a "pass-by-pass" narration of the bullfight from your seats.
We highly recommend making reservations early because Alexander is only available once every night on a first-come first-served basis. To get a jump start, read an Introduction to Toreo, "The Art of Bullfighting" by Alexander Fiske-Harrison. Contact us for more information.
Torero Training
Join us for Torero (bullfighter) Training any afternoon from July 7th to 14th and be a matador for a day. This family-friendly tour begins with a scenic one-hour drive to a local finca where one-year old calves – not bulls – offer chances to hone your cape waving skills. There are no swords involved, so this makes a terrific family alternative to the Pamplona bullfights. The Torero Training tour features a filling tapas lunch and opportunities to experience a real working bull ranch.
Looking for more than just bullfight tickets? The best place to start is our Pamplona Expert Travel Advice form.
Ethics of Bullfighting
Review a list of resources on the ethics of Bullfighting that we update regularly. We believe that anyone going to the Running of the Bulls ought to be aware of the centrality of bullfights to the festival and have a chance to form an opinion about it. Visit the ethics of bullfighting page.