The Plaza de Toros de Pamplona was inaugurated on the 7th of July, 1922 with an initial capacity of around 13,000 seats. It was designed by Francisco Urcola, who also designed Sevilla's "Monumental" Plaza de Toros and "El Chofre" plaza in San Sebastian. The bullfight arena was financed by construction bonds issued by the Casa de Misericordia de Pamplona (House of Mercy charity), the organization which continues to manage the facility and the annual bullfights. A major renovation in 1967 increased the capacity to 19,721 spectators.

History of Bullfighting in Pamplona
Interestingly, the Grand Plaza del Castillo hosted the first bullfights in Pamplona. Using four panels, they made a makeshift arena, which depended on the balconies of the surrounding buildings to accomodate the spectators. Over time, the spectacle grew in popularity to the point that it was clear a proper arena was needed. The next host to the bullfights was a bullring located near Plaza del Castillo, near what today is the beginning of Avenida Carlos III. Built in 1843, with a capacity of 900, this structure only lasted until 1849 when reconstruction began. In 1852, the new arena opened in time for the San Fermin Festival that July.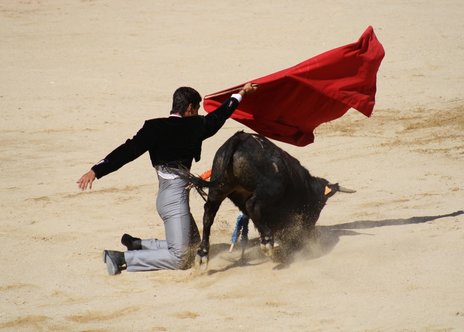 The Feria del Toro and the Fiesta de San Fermín
The Feria del Toro (Fair of the Bull) is intricately linked with the Fiestas de San Fermin and the Running of the Bulls. Even though the bull run has been going on for centuries, it was in 1922 when the Casa de Misericordia took over responsibilities for organizing everything to do with the bulls. This includes hiring the bullfighters, selecting the ganaderias (bull ranches), managing the Corrales de Gas (lower bull pen), and the Corrales de Santo Domingo (upper bull pen), the Encierillos (night walk of the bulls from lower to upper bull pen), and the Encierro (Running of the Bulls) itself, which requires Pastores (shepherds), carpenters to erect the barricades, and many more participants.