Carnival del Toro
The Hillmann Column
By Bill Hillmann
I am working on a book called The Pueblos about my adventures attempting to run one hundred and one bull runs in the summer of 2016. Yet, there has always been one Pueblo which all my Spanish Mozo (bull-runner) friends have encouraged me to visit and I had yet to run. It is Carnival del Toro in Ciudad Rodrigo which follows the same dates as Mardi Gras and ends with Ash Wednesday. Luckily, I live in Louisiana and get the Mardi Gras dates off so I was able to finally make it to Carnival del Toro last week.
Ciudad Rodrigo sits on a big hill, a beautiful 12th-century city wall encircles the many gorgeous cathedrals and archways and its famous bell tower whose hard banging bell signals the release of the animals. The temporary bull arena is rectangular in shape and made of wood which kicks to the stone buildings in the main square. The sand is unreliable and causes many runners to take spills, resulting in more than a few gorings over the years.
I arrived with Carnival in full swing. My friend, Ander Echanove made it to town before me and was already having spectacular runs. He was staying with a group of twenty young runners from near Sanse where he'd made a big splash running the curve in their famous bull run last summer. My first day running, I ran conservatively and watched Ander leading a "suelto" (a lone combative bull separated from the pack) with David Rodriguez for a hundred yards into the arena. David Rodriguez (who runs in Pamplona in all white with green squares across his chest) is also from Sanse and is one of the greatest runners of all time. I'd introduced Ander to David last summer and David was very impressed with Ander's running and remembered him.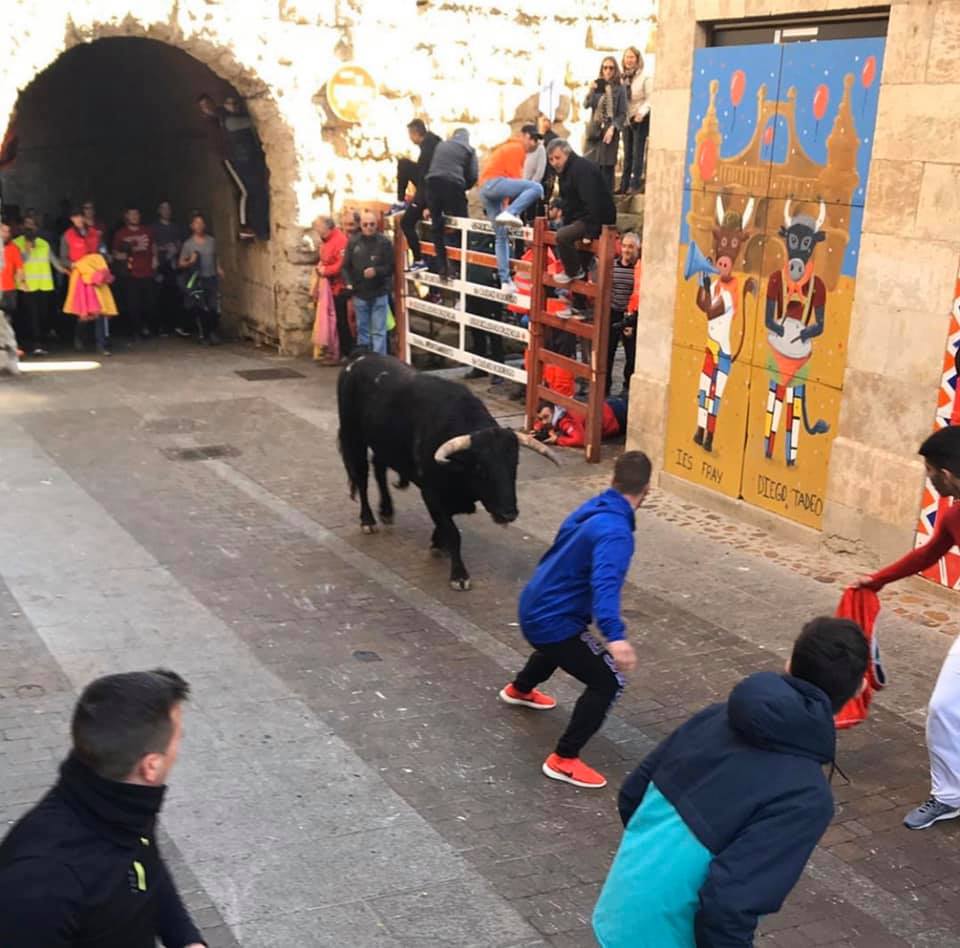 After the runs (there are around three every day during Carnival), I bought a copper rose from my friend and legendary Swedish runner Mikael Anderson. Mikael is an excellent metal craftsman and it's always great to see him. We've run bulls together for years. I bought the rose for someone special and the next morning I ran with the rose as my newspaper. I led a beautiful and massive black suelto around fifty yards with her shiny metal rose dangling before the bull's snout. The animal's eyes lit with the sparkling surface of the pedals as he followed it. Then at the mouth of the arena, the bull fell. I approached him and put the flower near his face as he rose and charged into the ring. I cut hard left and as I crossed the ring I fell on the uneven sand. A fellow runner helped me to my feet with a wide-grin.
Ander continued with his spectacular running and that night a big group of us including Ander, his Sanse gang and Stephanie Mutsaerts (who is an incredible dancer!) entered the lively and unique costumed nightlife of Carnival del Toro. Nearly everyone wears fantastical costumes and hits the chilly streets and clubs for drinking and dancing. We dressed up as pirates and made it to a great ancient stone night club. You have to climb up a three-foot wall to enter the big square dance floor. It was a nice vibe, not too many people but plenty all of them clad in various colorful costumes. Then, unfortunately, one drunken Englishmen began grabbing women's bottoms. The women, of course, didn't like it. Several of us confronted him about this, prepared to teach him a lesson with our fists. His girlfriend, who didn't know what was going on led, him off the dance floor. Suddenly he tripped fell down the three-foot wall and landed on his head! Half the dancefloor burst into laughter and high-fived. He'd gotten the thumping he'd deserved and none of us had to throw a single punch, to put it simply it was karma. The party rambled on deep into the morning light.
The next day, Ander put together a fantastic day of runs, leading several bulls at full charge and sueltos as well. His running reminded me of my early days in pueblos like Cuellar where you have many opportunities to run the animals in one morning. Sometimes bull runners fall into this a trance-like taurine dream. In this dream, you can feel the animals calling to you wanting you to lead them up the street. The bulls seem to possess you. Ander Echanove is very deep inside that taurine dream right now and it is marvelous to witness. Over the years a handful of new runners have sought me out as a guru, Angus Ritchie was the first, he went on to become a very special runner, others have come and gone and now Ander is here, I've given him everything I can, there's nothing left to teach him. Ander has done what every true teacher wants their students to do, he has surpassed me and now I have the honor of a front-row seat to watch this Mozo blossom into greatness.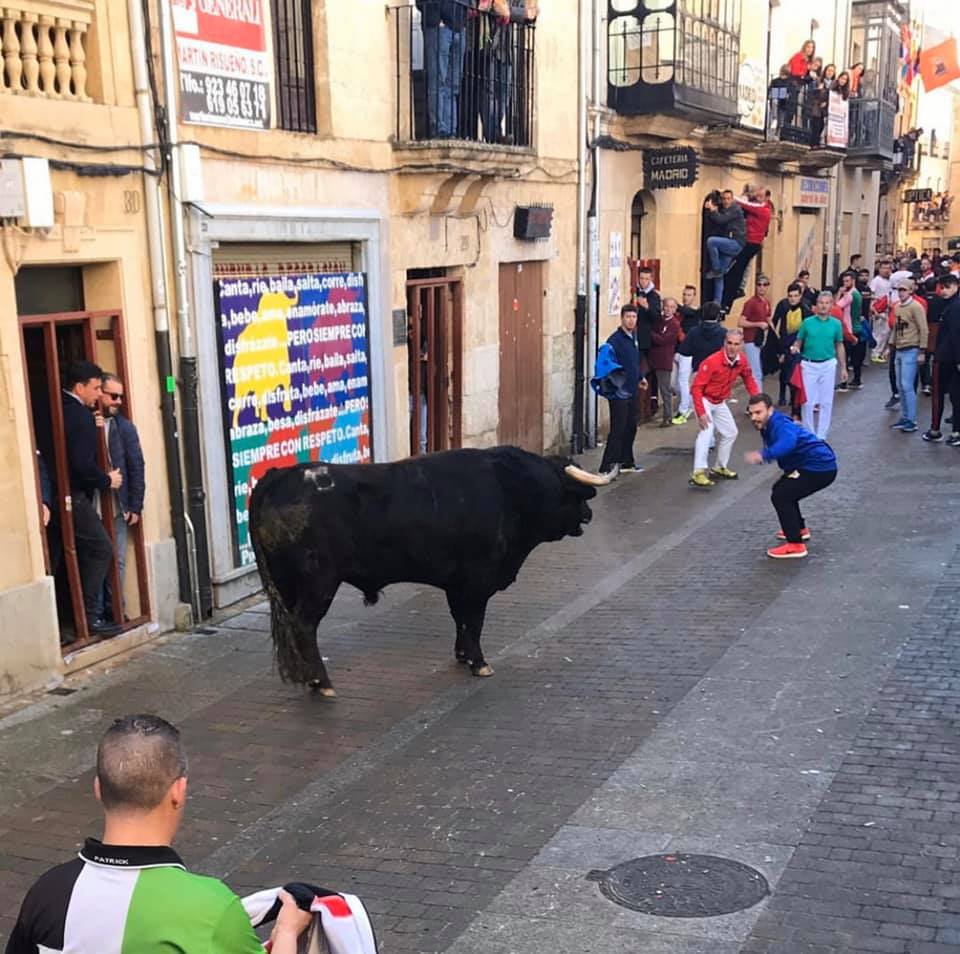 One of the final bulls of Carnival del Toro was a reluctant suelto. Ander and David Rodriguez did everything they could to urge him into the ring. David and Ander chatted and Ander handed him his newspaper. David threw the paper in a high lob. It landed at the bull's feet and ignited a charge. It seems as though Ander might have a new guru. And there is no one better to teach him the true art of the Encierro.
Bill Hillmann is an author, journalist and bull runner. He's run with the bulls over three hundred times in Pueblos all across Spain and survived two gorings. He is the author of Mozos: A Decade Running With the Bulls of Spain. His writing has appeared on NPR, VICE, Daily Mail, Washington Post, and others. He's given commentary on the run for TIME, BBC World Service, and the TODAY show.
More of Bill Hillmann's expertise is available in our How to Run With the Bulls section. Sign up for the Runners Club to get online lessons from Bill and other bull-running experts.