My favorite Sanfermines event… do I really have to pick just one?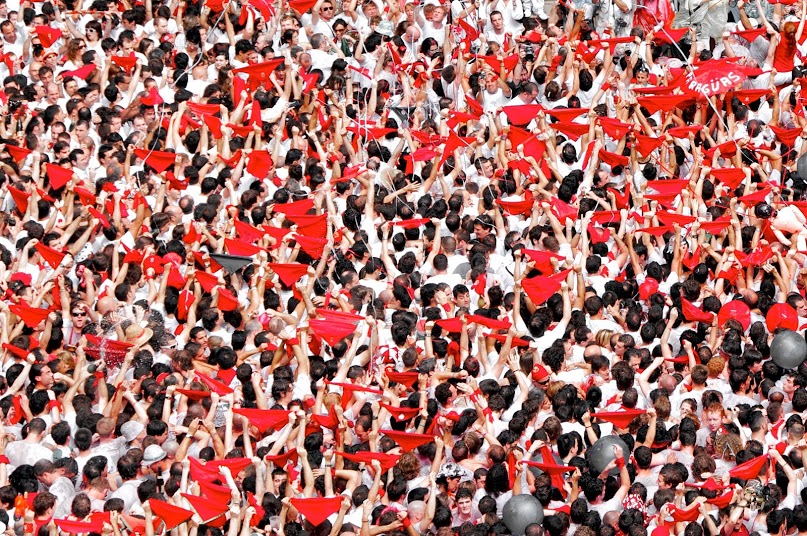 When someone asks me what my favorite event during the San Fermin Festival is, I find it hard to decide my response. There are so many things happening in only 9 days in the small city of Pamplona: the Encierro, the Procession, the Giants and Big Heads Parade, Bullfights, Pobre de Mi, Fireworks Contests, the Fair and more. I truly appreciate everything and each event has its audience.
Before I started working at RunningoftheBulls.com, I think my favorite events were the Encierro (Running of the Bulls™) and the Procession. While these events are totally different from each other, both are full of tradition.
I am fond of the Encierro because it has been a long-time tradition for me. My grandfather ran at the Santo Domingo stretch and many of my friends run each year at Estafeta. People that run well and near the bulls with reverence and sentiment are fascinating to me as they are very respectful and brave.
I also love the feeling of seeing Estafeta Street empty, with only the pastores (herders) walking in the road ready to start their dangerous job. This moment is special because I know that many people are waiting nervously at the back of the police line, ready to run with 6 big and brave bulls.
I adore the day of July 7th in particular. This is the official day of San Fermin and the most familiar day for the people of Pamplona. Following the Encierro, all of the local Pamplonicas go to the home of friends or family to have brunch, watch the Procession from a balcony and celebrate this important day. I love this moment!
However, since working at RunningoftheBulls.travel, I have discovered and now love the amazing experience of the Txupinazo Opening Ceremony from Plaza Consistorial. Before I started this job, I had only been at the ayuntamiento (city hall) once…and once was enough for me.
I arrived early in the morning and, at the beginning, everything was great because there were not a lot of people. Around 11 a.m., many more people came and started the craziness. Partygoers threw champagne, wine and eggs, leaving broken glass on the ground. This was a bit too dangerous for my taste. I also remember that I jumped once and never touched the floor again until after the Txupinazo Opening Ceremony. When I recall this feeling, I remember that I did not like the sensation.
Thanks to RunningoftheBulls.com, I have found a different perspective and I love this event now. It is unique, exciting, beautiful and, of course, super fun!
RunningoftheBulls.com reserves the only two terraces (the rest are balconies), for a limited number of people, at Plaza Consistorial just in front of the city hall where a leader of Pamplona lights a rocket at noon signaling the beginning of the San Fermin Festival. We celebrate with wine, cava and tapas while enjoying the views, music and other special moments like smelling the wine that is thrown from below where the wilder celebrators are having their party.
Now, I definitely consider this my preferred event, but always from a viewpoint where only a few people have access and the people from Pamplona want to be!
Join us! Find more San Fermin Festival events in our Pamplona Travel Guide then book a Pamplona Package.
We will see you there next July 6th!
What San Fermin Festival event is or will be your favorite? Tell us here!