The mysterious history of the Tortilla De Patatas.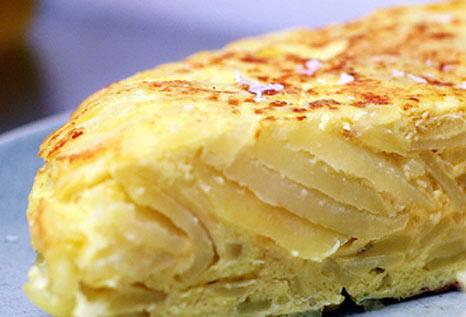 There are few pleasures cheaper than eating a good Spanish omelette (Tortilla de Patatas). Tasting this staple within Spanish cuisine is a "must" when you visit Pamplona during the San Fermín festival.
This delicacy is varied but is something that almost everyone loves. Actually, you can find tortilla de patatas in any bar in Spain. It is a simple and inexpensive dish, but has also captivated chefs worldwide, like Ferran Adriá, who has included it (his tortilla de patatas is more sophisticated and unconventional) among his exquisite dishes.
Until recently, the first known document that referenced the tortilla de patatas was a letter dated from 1817, led to the Cortes de Navarra, in which it was says that the people of Pamplona consumed two or three eggs in tortilla, for five or six people, mixing potatoes, bread, etc., while farmers had nothing to eat. Some claim that it was General Thomas Zumalacárregui (a Spanish military official who became a general during the First Carlist War), who invented the potato omelette "for necessity", as it was a simple and nutritious dish that can satisfy the appetite army.
Others suggest that the wife of Navarre invented it when Zumalacárregui stopped in her house and asked for something to eat. The woman who didn't not have lot of money only had eggs, onions and potatoes. She used those three ingredients and then served what she had made to the General, who enjoyed, and then popularized it.
Whatever the history may be the tortilla de patatas is a part of the Navarre culture from many years ago. Visiting Pamplona without trying it is a sin!
There are as countless ways to prepare the tortilla de patatas, but for me the best in Pamplona (besides my mom's) are at Bar La Navarra (Amaya Street, #10). A bar with a little charm, but with a delicious Tortilla de patatas pintxo with bread and a caña with lemon (beer with lemon), will recharge your batteries to continue your adventure in the Running of the Bulls™.
I can't give you the secret of La Navarra tortilla, but if you wish I can send you my mother's recipe… If you want it, just let me know!